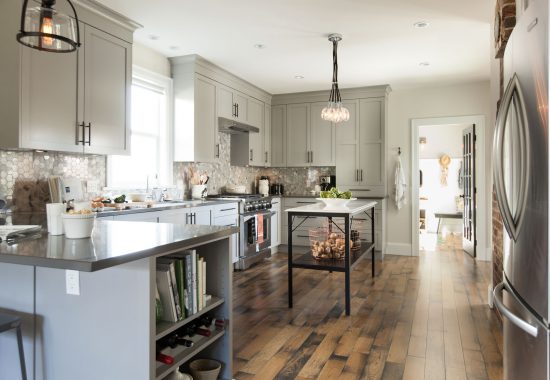 ベリンダとサムの築100年になる歴史ある家は、大規模な改装が必要でした。キャビネットの仕上げ色に選ばれた明るいグレーカラーは、開放感を生み出し、歴史あるデザインとスタイルは残しながらも、メリットキッチンのキャビネットはキッチンにモダンな雰囲気を与える事に成功しました。
The cabinets from Merit Kitchens added a contemporary feel to the kitchen. The aim of the kitchen design was to keep everything rustic to match the original style of the character home. The subtle grey selected for the kitchen cabinets created a bright and open feeling.
Merit Kitchen – Cabinet Details:
Doorstyle: Prairie School Flat
Species: Painted Maple
Colour: Smoke (Lectus paint colour)
Additional Details: The kitchen features ample storage and an eating bar that doubles as a serving area when entertaining, space for schoolwork or mom and dad's paperwork.