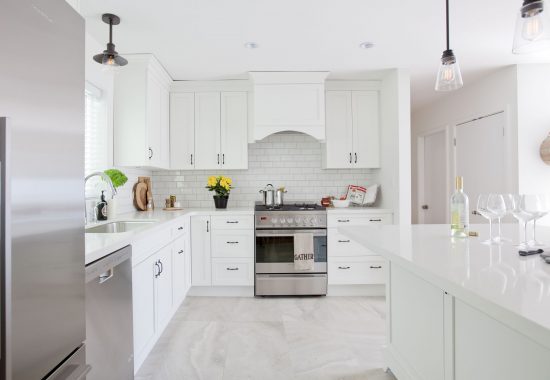 アリスとジムの平屋建ての小さな家は、狭すぎる事が不満の原因でした。ジリアンと彼女のデザインチームのミッションは、空間を可能な限り有効活用し、機能的かつ美しいものにする事でした。白色のキャビネット・カウンタートップは、スペースを2倍にも感じさせます。今ではキッチンアイランドに家族や友達と集まり、楽しいひと時を過ごせる空間となりました。
The walls between the living room and kitchen, as well as between the dining room and kitchen, were removed. To allow for more cabinetry and storage, a window in the kitchen was moved and a doorway eliminated.
The all-white cabinetry in the space, white backsplash and countertops makes the space look twice as large. Family and friends can now gather at the island and feel part of the goings-on in the kitchen, but be out of the way of the 'Master Chef.'
Merit Kitchen – Cabinet Details:
Doorstyle: Lectus Manhattan Flat
Species: Painted Maple
Colour: Arctic
Additional Details: The lovely decorative hood made from cabinetry creates a focal point for the space. The microwave is tucked away in a base cabinet in the island, below the countertop, to conceal the appliance and to free-up much needed counter space.