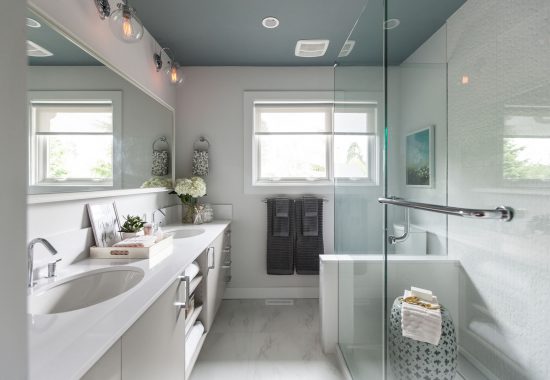 アリアとデイビッドは一緒に家を購入しましたが、かなりの修理が必要な状態でした。マスタールームの洗面は一式、メリットキッチンの特注ユニットに置き換えられ、ジリアンと彼女のチームは、そこからすばらしい2つの素敵なバスルームを生み出しました。
With the help of the team, Jillian and her team at Love it or List it Vancouver managed to pull off an amazing back yard and two gorgeous bathrooms. The vanity in the master ensuite was replaced by a custom-built unit from Merit Kitchens.
Merit Kitchen – Cabinet Details:
Doorstyle: Tofino Slab
Species: Paint on MDF
Colour: Haze Matte
Additional Features: This kitchen features a generous, double-sink vanity with ample drawer storage. The open shelf not only provides easy access to towels, but is also a visually attractive addition to the space. The cabinet door style is easy to clean and care for, and its soft grey paint colour complements the Bianco Calacutta floor tile beautifully.